1. I wanna buy a bar, where do I start?
If you're about to buy a bar, you have to consider its location, material, price range, size, portability and style. There is a whole article here on these considerations. But perhaps the very first step is to measure the space in which your bar will eventually be. Next, you could pick a bar of your choice and compare its size to that space. Here is our catalog: Wooden Bars
2. How to determine the right size of my home bar?
In order to determine the right size of your home bar, you must consider the following: a) how much space you have available, b) what you plan to store in it in terms of beverages/appliances. Start by measuring the area and include enough space for traffic behind the bar for at least one person who should be able to stand sideways. You might have the desire and space for a back bar, or you might just opt for a front bar. On average, the front bar has a depth of 24 inches.
3. How much space should I allocate to the bartender, i.e. between the front bar and the back bar OR the wall?
All our advertised bars show their dimensions, but there is one number that is not shown which is the depth of the activity area behind the bar. There is no final answer and everyone has a preference: what you need is enough space for an average person standing sideways. Some customers prefer a space between 30″ to 36″. Ideally, it could be as wide as 42 inches. However we've seen some reduce that space to 25″ or even less. The more the better of course, particularly if you will need space for two moving people or enough space for opening, for example, a mini-fridge.
4. How much space do I need for my barstools?
The standard linear space for each barstool is at least 24 inches. If you purchase a bar with rounded ends, you can add extra barstools.
Most bars are at least 6 ft long (72 inches) to accommodate three barstools. So remember: 2′ min. per barstool.
5. What is the standard depth of a bar overhang?
The overhang of a home bar is usually 8 inches, though it could extend to as much as 12 inches. But it would not go as far as 15″ which is the case with a kitchen countertop. The higher the stools, the smaller the overhang that is required, because knees usually don't bend as sharply as on standard height seats. In any case, for comfortable seating, allow between 9 and 13 inches between the barstool seat and the underside of your bar countertop.

6. What is the standard depth of a home bar? How is it divided between the two levels?
The standard depth could range from 24 to 30 inches. While it could go as low as 22 inches, it might also increase to 40 inches or slightly more if it features a large overhang and accommodates enough depth for equipment inside.

For example, if your bar has a total of 22″ depth, the higher level (the guest level) is never less than 12″. That leaves the working bartender level with 10″. If your bar has a depth of 30″, then that leaves you, the bartender, with 18″ in depth. As you can see, in such a design, the variable depth is the bartender's space.

As a general rule, a home bar top (the guest level) is 12 to 16 inches deep, while on a commercial bar, it's 20 to 28 inches deep.

Note: If you plan on using the guest surface (the higher level) for dining, it should be at least 18″ deep.
7. What is the standard depth of the back bar?
The back bar is often 1′ to 2′ deep.
8. How do you ship your bars?
Our bars are perfectly packaged and protected in wooden crates. For example, a bar with a front unit and back units, would arrive in three crates, one for the front and two for the upper and lower back. Our customers are always happy to know that no assembly would be required.
9. Will your bar pass through my door?
Yes! The standard width of most doors is 36 inches. All our bars have a depth lower than that. If you do not have a standard door, contact us and we will find a solution for you during production.
10. My bar has a wooden countertop, is there anything I can do to protect it from water/moisture?
Yes, there are clear oil-based stains that you could apply which will form a barrier to protect your wooden surface. Here is an example that is available locally: Minwax Helmsman.

11. How much space should I allow in my bar for a beverage fridge/wine cooler/ice maker, etc.?
You can view here our full guide regarding appliances for your home bar.
12. Where do I view your entire bar catalog?
Here is a link to our entire catalog.­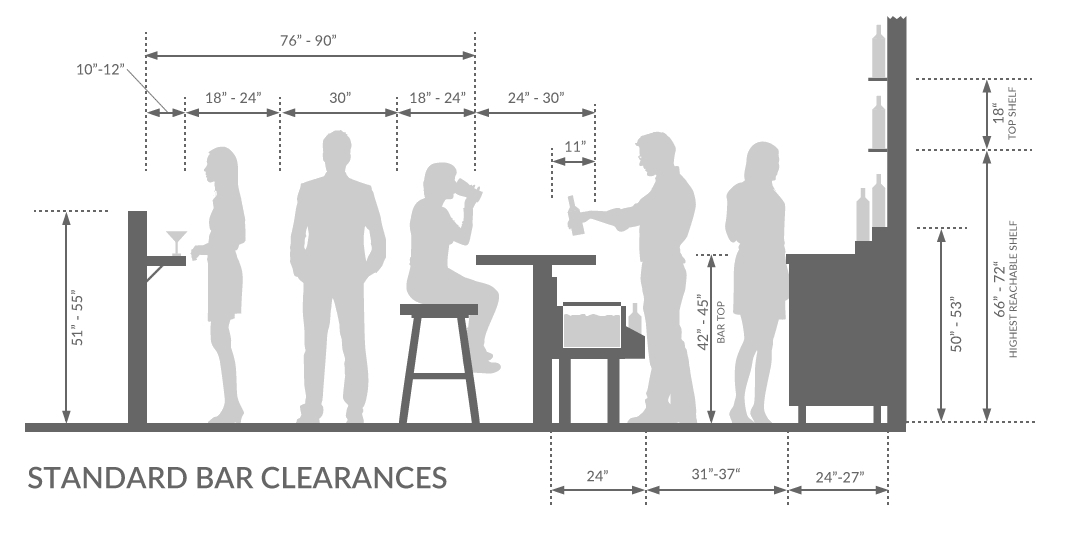 Got further questions? You can chat with our customer service or call us at 1-800-495-1170.