1. I wanna buy a bar, where do I start?
If you're about to buy a bar, you have to consider its location, material, price range, size, portability and style. There is a whole article here on these six factors. But perhaps the very first step is to measure the space in which your bar will eventually be. Next, you could pick a bar of your choice and compare its size to that space.
2. How much space should I allocate to the bartender, i.e. between the front bar and the back bar OR the wall?
All our advertised bars show their dimensions, but there is one number that is not shown which is the depth of the activity area behind the bar. There is no final answer and everyone has a preference: what you need is enough space for an average person standing sideways. Some customers prefer a space between 30″ to 36″. However we've seen some reduce that space to 25″ or even less. The more the better of course, particularly if you will need space for two moving people or enough space for opening, for example, a mini-fridge. 
3. How much space do I need for my barstools?
The standard linear space for each barstool is at least 24 inches. If you purchase a bar with rounded ends, you can add extra barstools. 
4. How do you ship your bars?
Our bars are perfectly packaged and protected in wooden crates. For example, a bar with a front unit and back units, would arrive in three crates, one for the front and two for the upper and lower back. Our customers are always happy to know that no assembly would be required.
5. Will your bar pass through my door?
Yes! The standard width of most doors is 36 inches. All our bars have a depth lower than that. If you do not have a standard door, contact us and we will find a solution for you during production.
6. Where do I view your entire bar catalog?
Here is a link to our entire catalog.­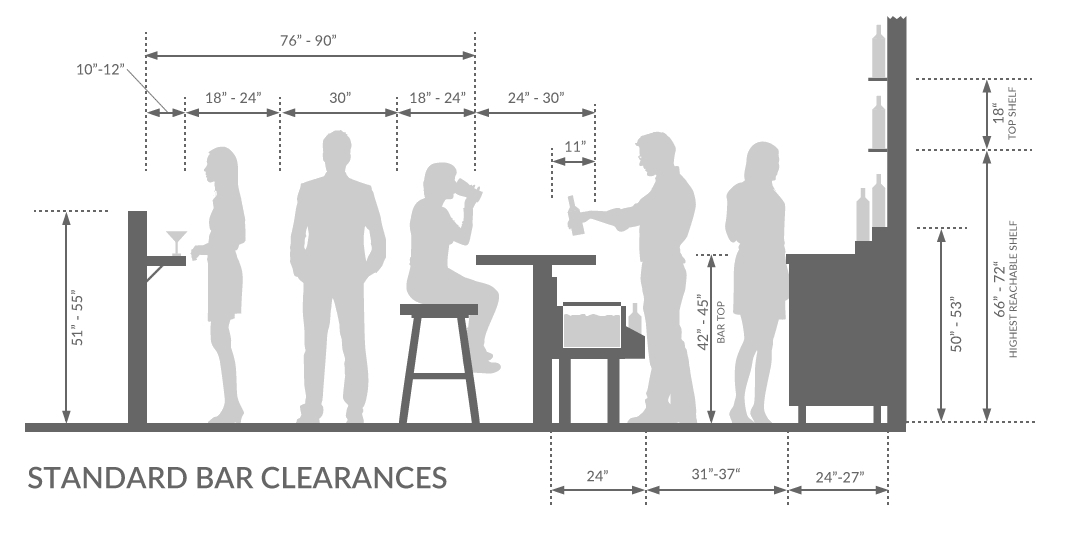 Got further questions? You can
or call us at 1-800-495-1170.