Before you start shopping for a home bar, you have to consider the following factors: bar's location, material, price range, size, portability and style.
1. Location: Outdoor or indoor home bar?
Where your home bar will end up determines its material, look and functionality.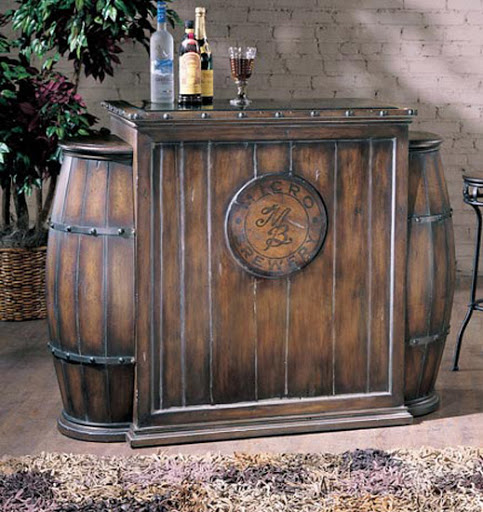 ­­
­­
2. Material: Solid wood or engineered wood? Or perhaps steel and glass?
Are you looking for a solid wood home bar, a cheaper MDF-type, a metal one, or a more creative kind made of glass or even bricks!
Here is the incredible range of materials from which bars have been constructed:
Glass
Brass
Aluminum
Marble
Bricks
Formica
Steel
Iron
Wood veneer
Solid wood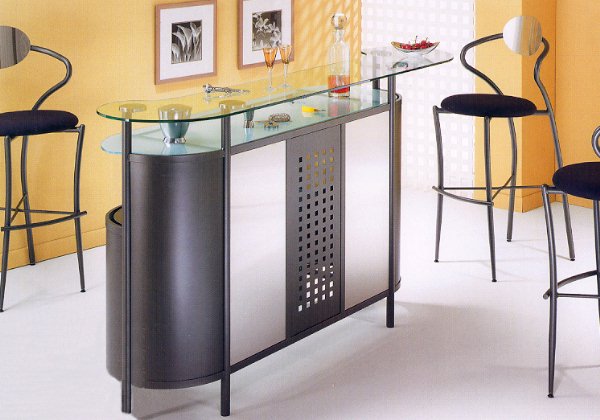 3. Price: What's your budget?
Price is directly associated with the material of the bar, but there is also other factors. Is it a designer brand? Does it come with special high-tech functionalities? What about its accessories like a sink or a marble top? The range could go from $300 to $30,000.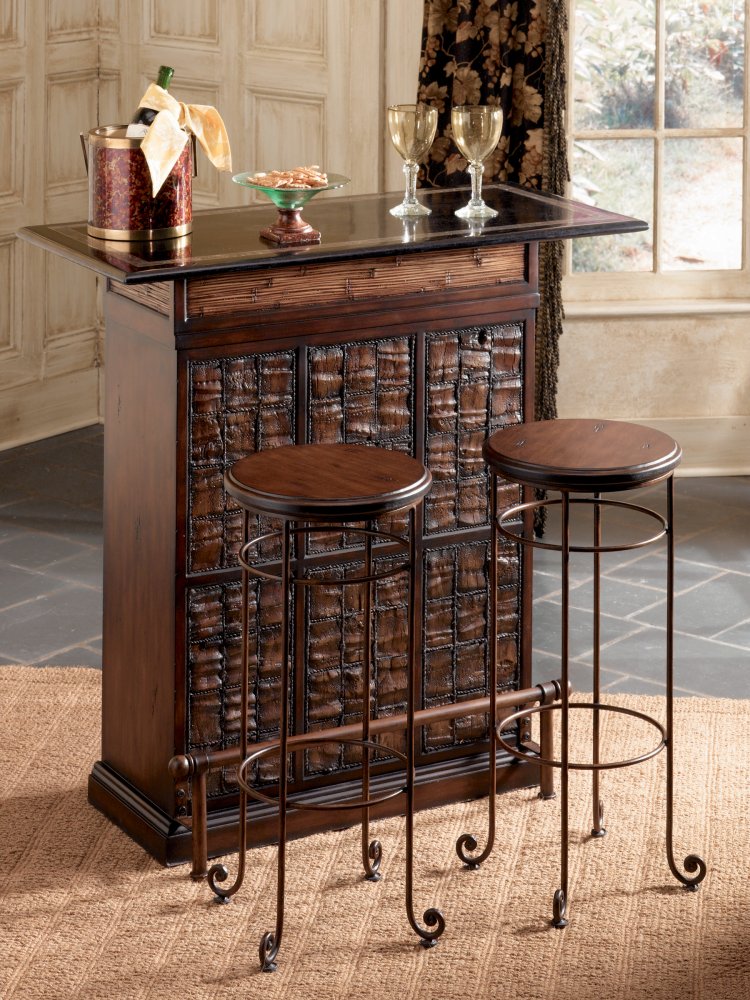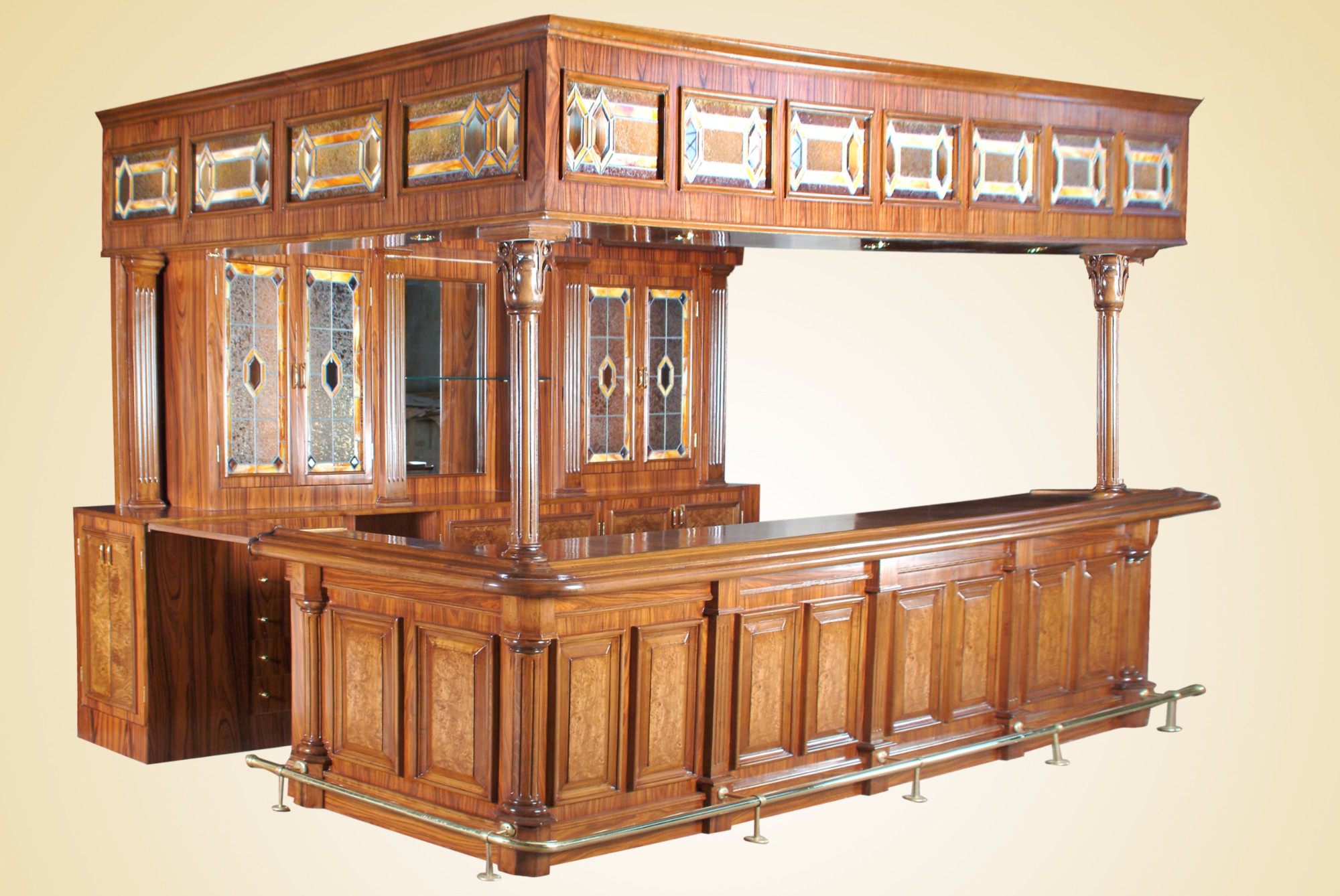 4. Size: Large or small bar, or a minibar
That decision is influenced by your answer to the following question: What is the right location for a home bar? Many people prefer to have their home bar in the basement where they can enjoy time with friends without disturbing other family members. However, you might find your living room or study to be the ideal location for your home bar as well. Placing the bar in a corner usually saves floor space, however make sure the spot you choose is convenient for you, your guests and your family members.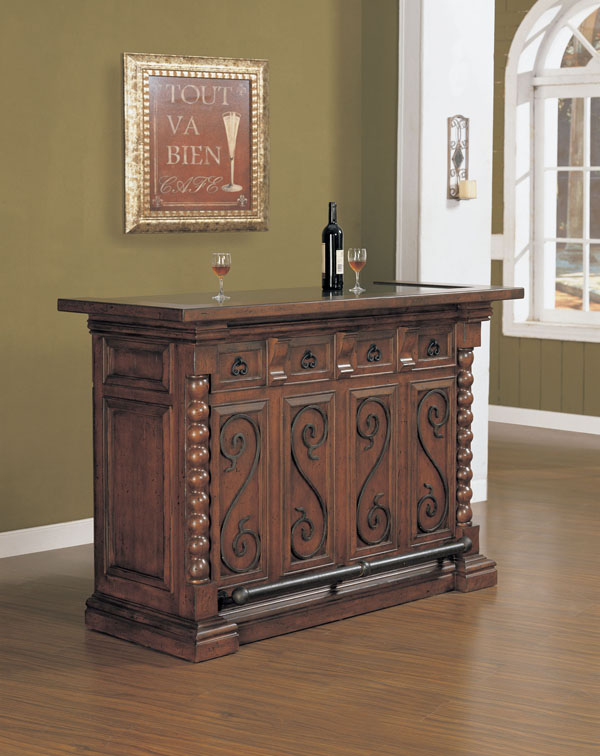 5. Layout: L-shaped, U-shaped, C-shaped or straight?
The location of your bar could point you towards the right layout. For example, if you have an empty corner, then an L-shaped bar might be ideal. If you have enough room, you might be able to add a back bar in addition to your front bar. It's critical to take note of any window conflicts, bulkheads, ceiling heights, electrical, plumbing, etc. Don't forget to add to your calculations space for barstools. Here is a guide to how many barstools you can fit around your bar.

Barstools are certainly a bonus if you have enough space for them, but some opt for a standing bar where guests congregate for a while then head towards a sofa or some other type of seating. You, the host, will have to make such decisions about the setup.
6. Portability: Permanent, semi-permanent or a mobile home bar?
Permanent home bars: If you have a large recreation room, you might opt for a permanent bar which usually includes a separate serving counter, a storage space for bottles, glassware and bar accessories, along with a couple of bar stools. Generally made of high quality wood, a permanent bar might seem a little expensive at first, but it makes a tasteful and convenient addition to your home that you can enjoy for years to come.
Semi-permanent home bars: If you have a medium-sized recreation room or den, a semi-permanent home bar might be your best option. A semi-permanent bar usually resembles an elaborate cocktail cabinet and displays bar equipment, glassware and bottles. Besides multiple cabinets, these home bars usually have a pullout shelf or a spacious space to mix and serve drinks.
Mobile home bars: When you have a smaller space, a portable home bar offers a convenient way to entertain your guests. Mobile home bars let you entertain in any part of your house. If you decide on a portable home bar, make sure it has enough space on top or a pull-out counter to lay out glassware and prepare drinks.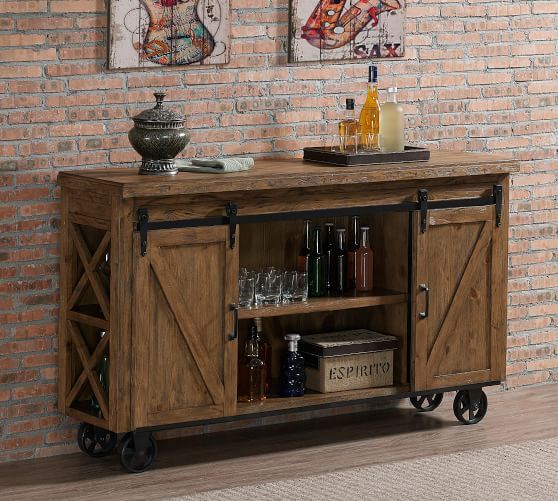 7. Appliances: Beverage fridges, wine coolers, ice makers and kegs
Once your bar area is complete, you will have to stock it. And that supply of bottles will require more than shelves and racks. So it's to think of whether you could reserve space within your bar for appliances. But first decide on which appliances you will get. The items to consider are usually beverage refrigerators, wine coolers, ice machines and kegerators. Another item to consider integrating into your bar which could make for better entertainment is a TV. Here is a full guide to home bar appliances.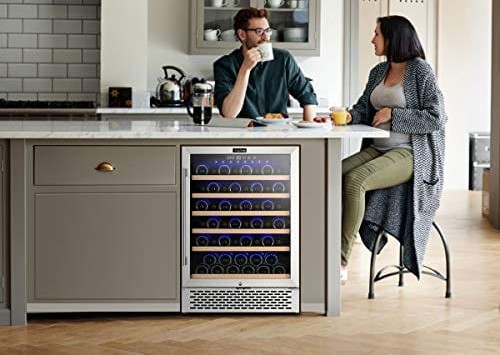 8. Functionality: Wet bar vs. dry bar
A wet bar is one with a fully functional sink. Do you see a faucet behind the sink? Well, that's a wet bar. Turning your bar into a mini-kitchen (a space with a sink plus fridge) is a good idea particularly during long evenings of entertainment when you will have to mix cocktails and perhaps offer appetizers. You wouldn't need to leave the party and take dishes to a kitchen that is perhaps on a different floor.

Your bar could become a complete kitchen if you want to be so. Although some aspire to turn their bar into a second kitchen, you don't need to go that far. Consider adding a functional sink (a wet bar) so you don't have to leave your guests to get water or wash glasses. But that is not an option for everyone. Perhaps there is no access to plumbing or digging into the (concrete?) floor to extend plumbing will take you beyond the designated budget. In that case, you could go for a dry bar, where you would get an ice bin or a sink that is plugged. Having that accessory means you could still have the ability to hold ice, chill beer or empty unused drinks.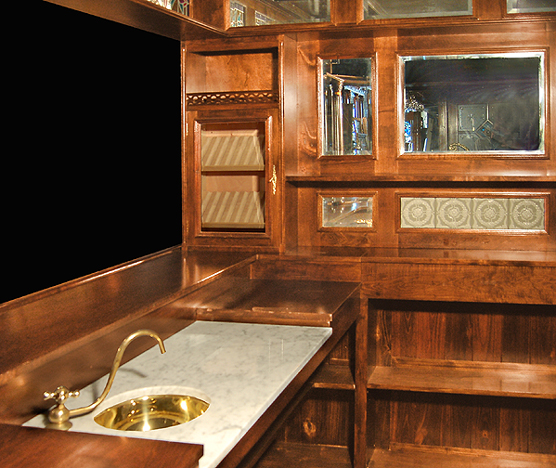 9. Color: What kind of ambiance are you creating?
The color of your bar will depend on several factors from your personal taste to the color palette of your room. You might want to consider the color of your walls or floor. But above all, the question is what mood would you like to create around your bar. Darker colors might make the room feel more intimate and exclusive. On the other hand, strong bright colors are modern and are a better fit for open spaces. In any case, the color of your bar will be heavily inspired by the style you select which takes us to the next and final point.
10. Style: Which one best represents you and best fits in your home?
Home bars comes in five major styles:
1. Classical bars/ traditional bars
2. Mid-century modern bars
3. Contemporary bars
4. Rustic and Arts & Crafts bars
5. Tiki (Island-themed) Bars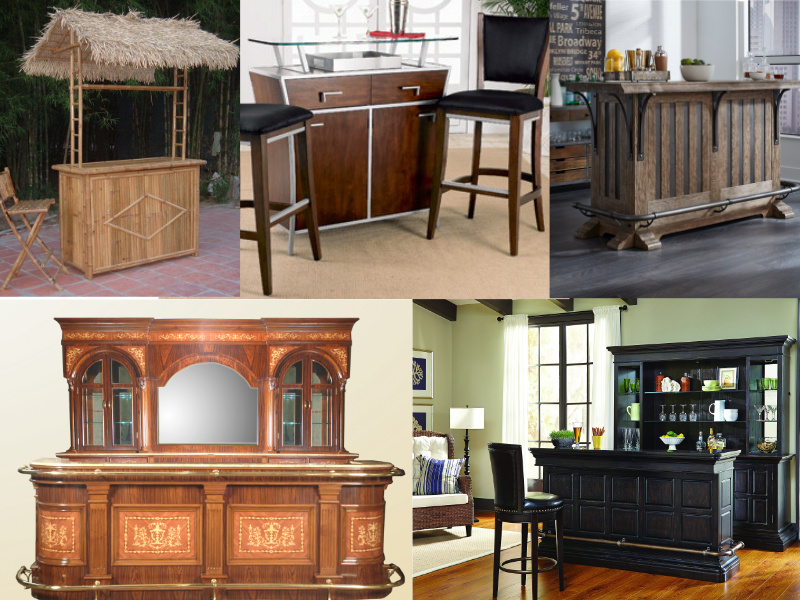 The size, material and design of your home bar should depend on your available space, budget and lifestyle requirements.
View our entire bar catalog.­