What identifies traditional bars? Their construction material is wooden and often colored in any of the wide range of brown tones. They usually include mirrors, cabinet doors, columns, panels, carvings and moldings. Traditional bar styles could be divided into two groups: American and European:

American bars:
1. Brunswick-style bars (from the Old West era)
2. Art Deco bars (Old Hollywood glamor)
3. English pub bars (these canopy bars are often grouped with American bars since they gained incredible popularity in USA)

European bars:
1. Victorian bars/ Gothic style bars
2. Baroque bars
3. Rococo bars
4. Neoclassical bars
5. Empire-style bars (Late Neoclassical style)
6. Art and Crafts bars (Craftsman-style bars)
7. Italian-style bars

Keep reading below to view examples of the above styles.

American Traditional Bar Styles
Brunswick Style Bars (From 1880s)
Brunswick bars are considered the ultimate American bars. They bring back images of the Old West with their thick Corinthian columns and large arches. One catalog by one company (Brunswick) are behind these magnificent bars that do not blend in the room but stand out in grandeur. Learn all about Brunswick bars here.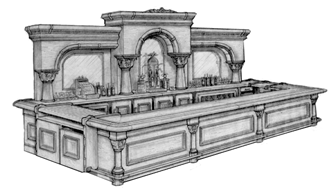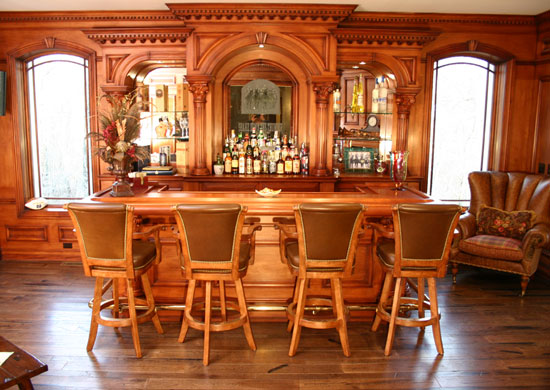 Learn all about Brunswick bars
Art Deco Bar / New York Style Bar (1920s & 1930s Style Bar)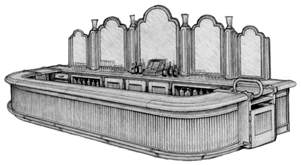 Art Deco connects two centuries; the 19th and the 20th, representing a fascinating tension between the two periods of the classical and the modern. It would take another three decades, specifically the 1950s, for modern furniture to arrive but Art Deco was still an exciting taste for what was to come. One could imagine an older generation looking in disapproval at the younger rebels socializing around such bars, listening to Jazz music and celebrating the new freedoms for women. The radical industrial designs show an influence by new technology such as aerodynamic automobiles, passenger aircraft and high-speed trains. Another important invention is often associated with it: the movie theater. Many home bar owners like Art Deco bars since they add an Old Hollywood glamor to their space.

In addition to the fluted front, note the typical Art Deco rounded corners dominating the bar's design, on both the front bar and the top of the upper back. Note the highly polished and curved wood veneers and the abundance of chrome. Some Art Deco bars feature bold geometrical patterns. The bar die (on the front) has a heavy "tambour" look on wide 4 ft. radius corners that make a clear Art Deco statement. Although it has many elements of classical styles, some historians consider Art Deco to be among the earlier modern styles. You will notice see the traditional mirrors in wooden constructions on in Art Deco bars but also metal accents and glass.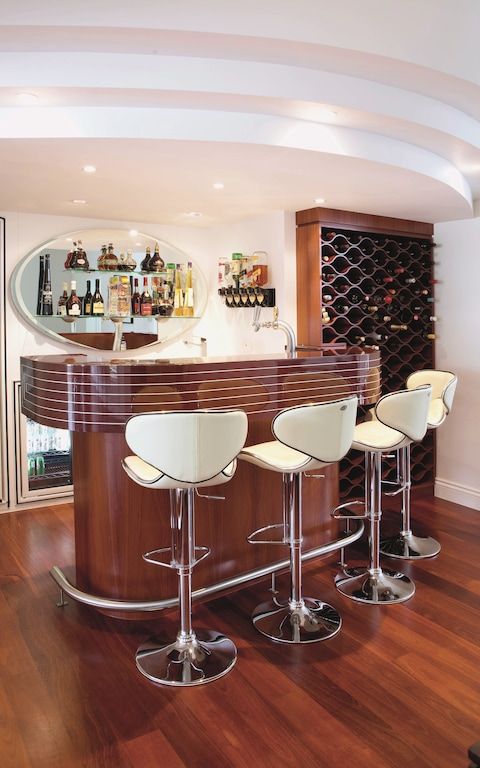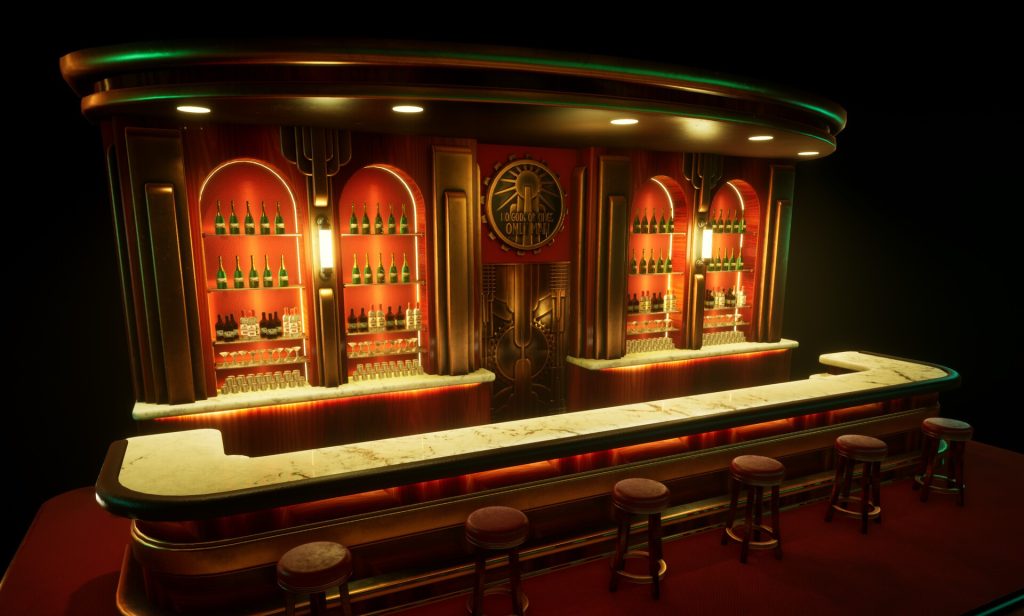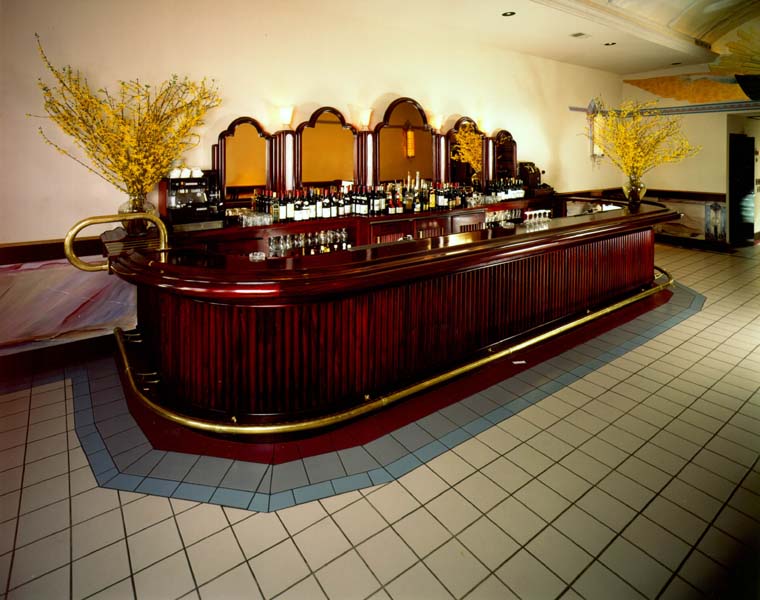 English Pub Bars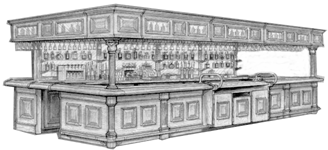 The most obvious characteristic of English Pub Bars is their stained glass canopies and the support columns.
Sometimes the canopy features wooden panels rather than stained glass.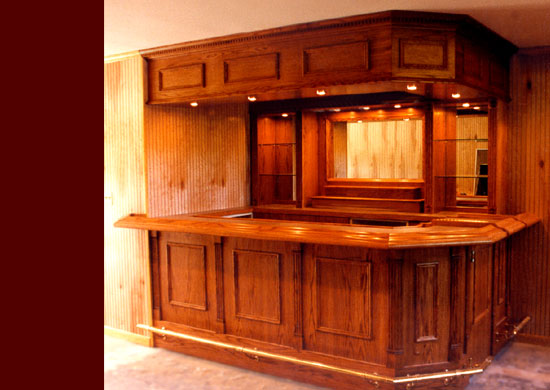 European Traditional Bar Styles
The above bar styles demonstrate how that piece of furniture evolved independently over the last two centuries in USA but at the same time there were also bar styles emerging to reflect the tastes and styles of well-known European historical periods in art and design. The three main European styles are Gothic Revival/Victorian, Rococo and Neoclassical. But don't let terms like Gothic (read: medieval) or Rococo (France in the mid-1700s) or Neoclassical (France in the late 1700s) lead you to think that these bars existed during those periods. In fact almost all European styles probably emerged in the same place and during the same period: Victorian England. During the Victorian era (the second half of the 1800s), no particular taste emerged but a variety of historical styles were revived simultaneously which were Gothic Revival, Rococo Revival and Neoclassical. (Quick note on terminology: The Neoclassical style emerged in the late 1700s to revive the Graeco-Roman style. The Victorians brought it back—revived it—in the 1800s, but we would not call it Neo neoclassical or neoclassical revival because it would sound silly!)

So why do we associate Victorian style with the Gothic one in particular if the Victorians brought back other styles as well? Because the Victorian obsession with all things Gothic surpassed any other taste in art and design. The Gothic mood took over everything Victorian from architecture to novels.

Here are the major European bar styles:
Gothic Style Bar / Victorian Style Bar
The Gothic style first appeared in European cathedral architecture between 1150 and 1550. The Victorian era of the 1800s revived it to a degree that architecture and also furniture of that period became defined by Gothic Revival. It is easy to identify that style by its elaborate carving and the user of arches. Curiously, Gothic home décor has again become popular in modern times. The mystical, magical aura of the Gothic era has caught the imagination of artists and designers. Some passionate home owners go for the full Gothic look by decorating their rooms with candles, tapestries, stained glass, brass and pewter. The Gothic look is not just manor houses and castles, but for modern homes too.
Baroque Style Bars
Sometimes it's confusing to differentiate between Baroque and Rococo styles of furniture but there are major cues that could help. (Rococo is explained below). The Baroque style shows gilded wood and overly decorated. Note the darker colors. The style is very ornate, grand and lavish. One could even say dramatic!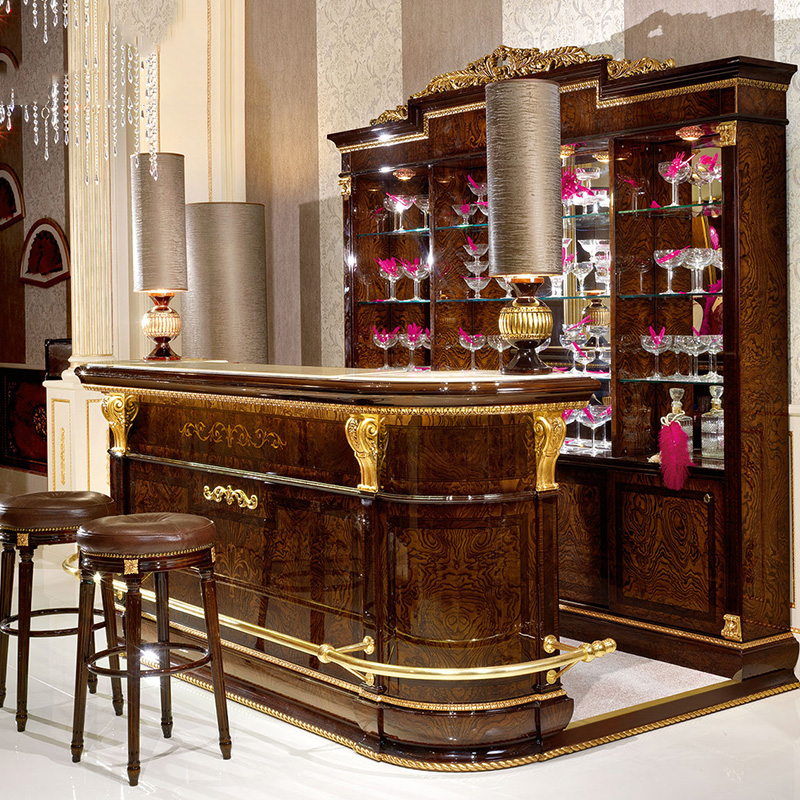 Rococo Style Bars
Rococo furniture features C shapes and S shapes in its structure which is generally thin and delicate. Serpentine curves are heavily used. Overall, the colors and also the architecture are lighter than its predecessor, the Baroque style. To complete the Rococo look, you might want to consider magnificent chandeliers, and paintings of pastoral landscapes and romantic scenes.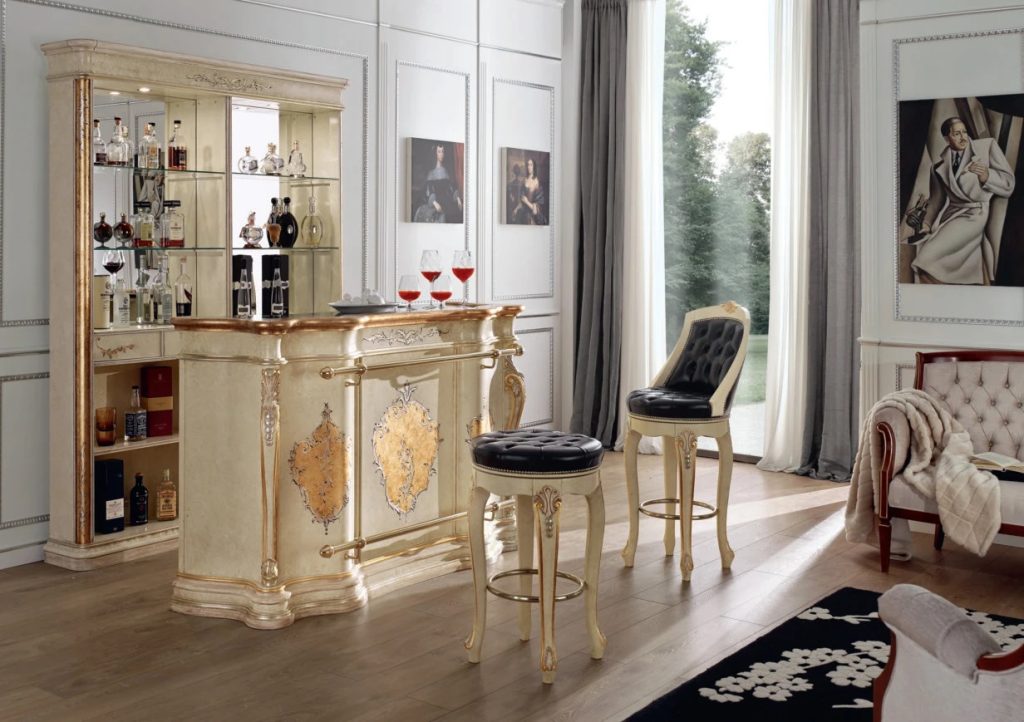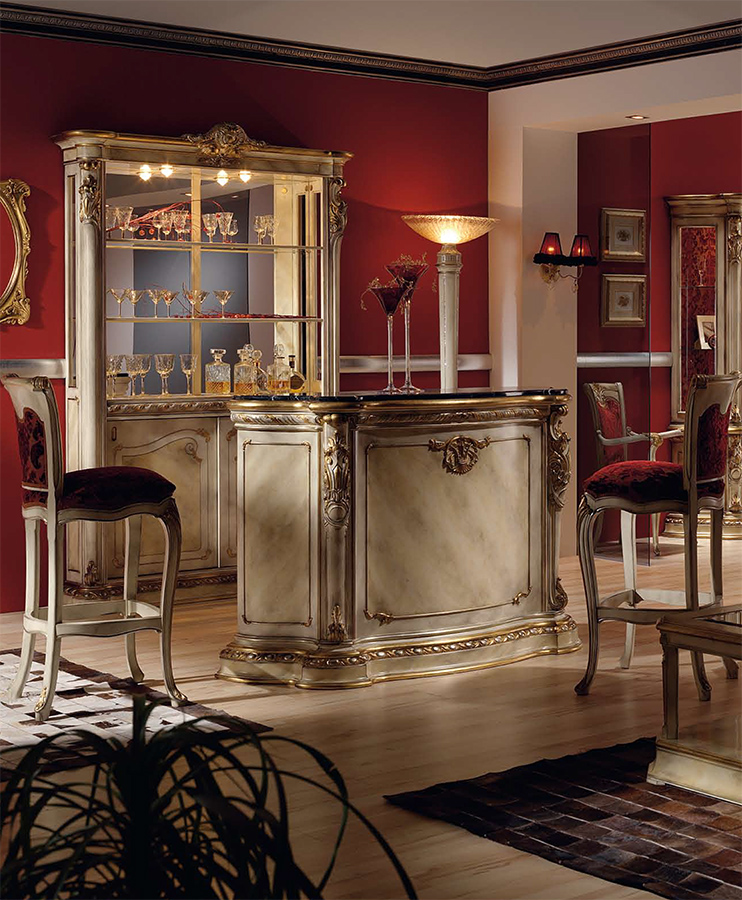 Neoclassical Style Bars
Neoclassical bars feature fluted pilasters dividing the rectangular sections of the back and there is often matching pilasters in the front bar also. Historically the Neoclassical style lasted from 1755 to 1805.
Empire Style Bars (Late Neoclassical Style)
The Empire style could be considered a second phase of the Neoclassical style. Visually it shares many of its original elements and influence from Greece and Rome is still there, hence it is referred to as the Late Neoclassical style. It lasted from 1800 to 1840. You will find lyres, pillars and scrolls incorporated into the Empire style bars. The most popular characteristic was gilded ornaments. The bars are embellished with golden leaves and other motifs that look like solid gold. Plenty of carving made a come back in this period. Furniture was generously decorated with brass and ormolu. Decorative elements included laurel wreaths, winged chimeras swans, griffins and eagles. The paint color was often black and gold. The overwhelming look of golden-colored embellishments was among what the stern Neoclassical style rebelled against when it replaced Rococo furniture. Ironically, the Empire style, the birthchild of Neoclassical, brought them back in abundance.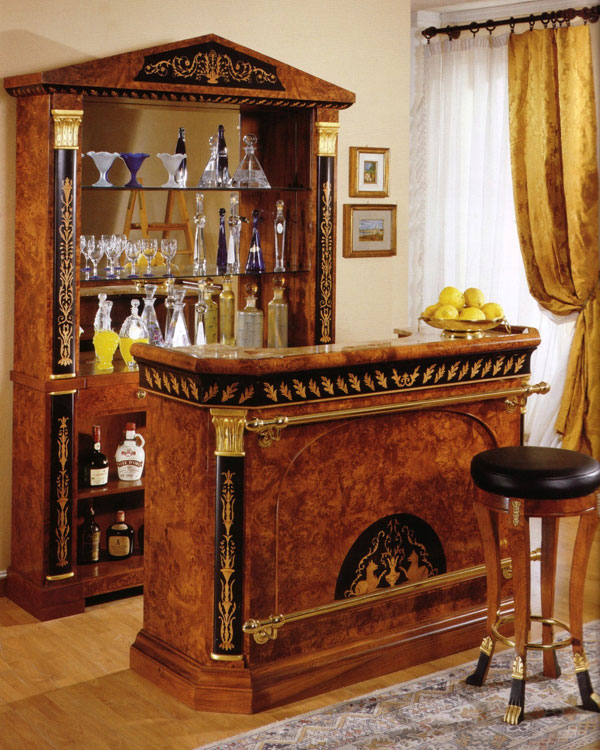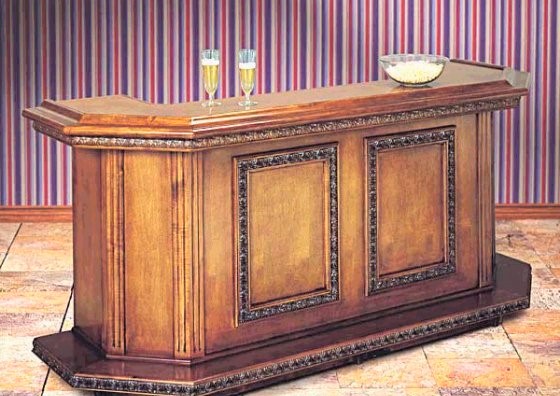 Arts and Crafts Style Bars (also Craftsman Style Bars)
This style makes itself distinct by what it lacks rather than what it shows off. It appeared in the early 1900s as a reaction to the heavily ornamented and ostentatious Victorian and Empire styles. It could be considered a sub-style of Neoclassical because it shares with it many of its ideas and visual representations which are focused on simplicity and utilitarianism. Arts and Crafts bars do not display carvings, curves or arches. The countertop is always wooden and the color are neutral and earth-toned. You will also notice flat panels, and square or rectangular designs allover. The flat windowpane-shaped panels that alternate between being raised or recessed are among the most popular characteristics of Arts and Crafts bars. That style would evolve decades later into the rustic style.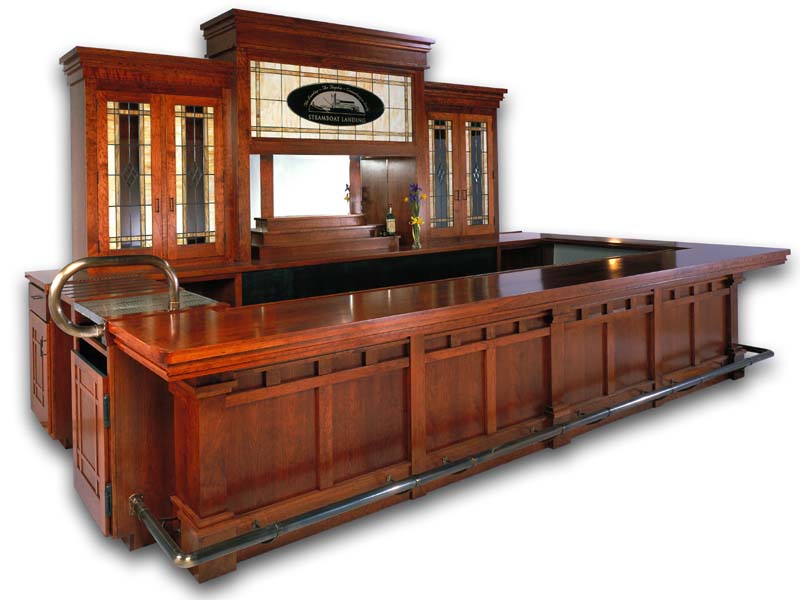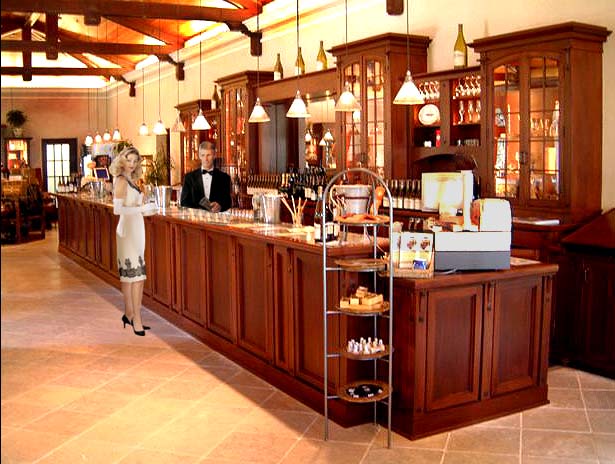 Italian Style Bars
Among the traditional styles, this is perhaps the least formal and the most recent. It still creates the traditional ambiance albeit a relaxed one with recent European design influence. The elegance of these bars is subtle without the need to display large columns or golden ornamentation. It features oval panels on the front and you might also spot carved grape vines.
WoodnLuxury Blog: All about custom bar furniture