What is a sports home bar?
Any bar style can be a sports bar. How? Get a TV screen and make it the focal point!
Home owners have recently wanted to replicate the atmosphere of attending live sports events or even getting together with friends at public bars and restaurants. The aim is for friends to join you in relaxed evenings of socializing and cheering for your favorite team. To build that experience, home owners would purchase a large-screen high-definition TV to be placed in an easy-to-view spot at the back and would have also add a top quality sound system. Some true enthusiasts go as far as hiring audio professionals to help out with the sound system design and installation.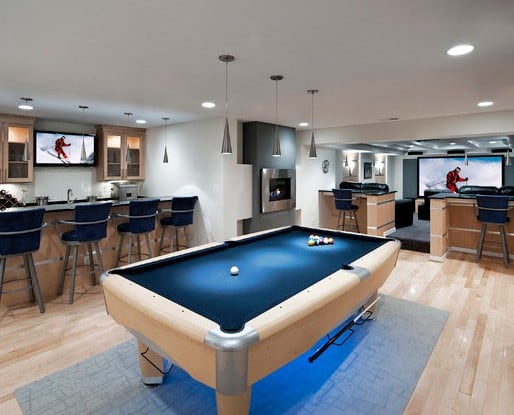 High-tech home entertainment
Considering how fast technology moves, high-definition TV screens are probably a safe choice unlike, perhaps, built-in stereo systems. Because home bars are among the most customized pieces of furniture in the house, many enthusiasts try to build the perfect man cave. That's when they consider integrating into their custom home bars gaming equipment and home movie theaters. You could spend thousands of dollars on state-of-the-art systems to integrate into your home bar and they would be obsolete within a year or two. You would want your bar to last for decades so why risk having inside it outdated entertainment systems?

Word of advice: Think twice before having any technology built into your home bar.